---
Totality in Turkey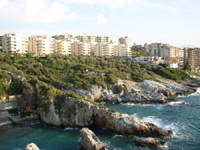 After 6 months of rubble and trouble, it was time to leave post Katrina New Orleans for an adventure of a lifetime. The highlight of the trip was a total eclipse of the sun on the Mediterranean Coast of Turkey. The trip started with a few days in the Big Apple and a viewing of "Spamalot"; a witty knock off of Monty Python's movie "Search for the Holy Grail". A trip to the famous Met, Wall Street, a walking tour of China Town and Alphabet City, and our Big Apple journey came to and end. Off to Turkey.
My first view of Istanbul was from the air. Four hours in the airport, another air tour of this magical ancient city, and we were off to Izmir. We stayed on the Aegean Coast about 10 minutes from the ancient city of Ephesus. The entire area was filled with nice hotel resorts and 2 large water parks, many of which were only ½ complete. The area has started to boom as a European Resort destination. Our tour guide informed us that Turkey had just opened up real estate ownership to outsiders as one of the many pre-requisites for their European Union membership.
| | |
| --- | --- |
| | The ruins at the ancient city of Ephesus are truly amazing. The start of the tour takes you through some modest ruins of the old market. |
| | Then you descend down the hill to a well-preserved facade of one of the largest libraries of the ancient world. |
| | A large amphitheater and the old harbor road highlighted the end of the tour. I had the pleasure of witnessing an older Brit sing a few verses of an old English drinking song. The crowd erupted into applause. |
| | The second half of the day we had lunch at a rug factory, where they showed us the old ways of making Turkish rugs. |
| | The morning adventure was a trip to one of the finest preserved Roman amphitheaters, Aspendos. |
| | A local TV crew was here filming something that featured a cat, a panda bear, mimes, and clowns. |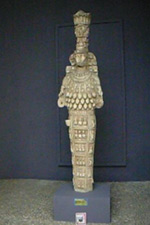 This photo is a statue of Artimus. The temple that stood next to the ancient city was one of the ancient wonders of the world, but now it's not much of an experience.
The day ended with a trip to the museum that was home to impressive statutes excavated from the Ephesus site.
The next day we traveled to the resort town of Antalya, a booming resort metropolis on the Turkish Riviera. Our final destination would be a resort hotel on the beach about 30 miles outside of Antalya. We would arrive just in time to see the sunset behind the mountain and sea. After a night at the hotel bar sleep was still difficult in anticipation of the main event - the total eclipse of the sun.